The Tourism and Recreation Geography of Taiwan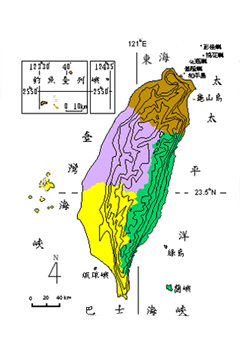 Relevant Websites
Reference
Chen, Shui-yuen, 1981: Guan-guang-di-qu-ping-jia-de-fang-fa, Taipei, Jiu-zhang Book Inc. 169 p..
Li, Ming-hui, 1990: Guan-guang-di-li, Taipei, Yang-Chih Publication, 400 p..
Tourism Bureau, 1978: Tai-wan-di-qu-shi-ye-kai-fa-ji-hua.
Urban and Housing Development Department, Council for Economic Planning and Development, Executive Yuan, 1983: Tai-wan-di-qu-guan-guang-you-qi-xi-tong-zhi-yan-jiu.
Tourism Bureau, 1992: Tai-wan-di-qu-guan-guang-you-qi-xi-tong-kai-fa-ji-hua, Taipei, Tourism Bureau of Ministry of Transportation and Communication, 630 p..
Tourism Bureau of Ministry of Transportation and Communication, 1996, 1997, 1998: Guan-guang-nian-bao.
Yu, Yung-he, 1959: bi-hai-ji-you, Taipei, Taiwan Bank, Tai-wan-wen-xian-cong-gan, NO. 44, 72 p..
Environmental Protection Administration Government of R.O.C. edited, 1995: Zhong-hua-min-guo-tai-wan-di-qu-huan-jing-zi-xun, Taipei, Environmental Protection Administration Government of R.O.C, pp. 478-500.
A. Foreword
The most renowned travel book about Taiwan was written by Yu Yung-ho in 1697. On his 26-day journey on an oxcart, he traveled from today's Tainan to Tienmu in Taipei. He waded across hundreds of streams and admired gorgeous coastal scenes. He also witnessed disasters like floods and gusty winds and recorded his encounter with indigenous peoples. Many of his writings were turned into beautiful and much-admired poetry about Taiwan's landscape.
After the island's ports were opened in the Ching Dynasty, many came to Taiwan from overseas for missionary work and for study of the natural, ethnic or business environment. Before and after Japan took over Taiwan in 1895, it systematically sent scholars to carry on comprehensive investigations for political and economic reasons. Their documents have enabled us to glimpse the original look of Taiwan before it was developed. In Japanese colonial times, Taiwan was famous for eight scenes: the moonlight on Sun Moon Lake, cloud sea on Mount Ali, snow on Mount Jade, spring in Mount Tatun, sunset in Anping, the tranquility of Taroko Gorge, the cliff at Chingshui Cliff, and the fishing boat lights of Penghu.
When the ROC government moved to Taiwan in 1949, war was still fresh in people's memory. Under martial law, domestic tourism was not encouraged and international travel was prohibited. During vacations, students participated in activities organized by the China Youth Corps. Not until 1979, when the national income was increasing year by year and it was clear that martial law would be removed (this occurred in 1987), did official policies begin to allow Taiwanese to travel overseas.
Visiting China was also made possible by the rapid improvement in cross-strait relations in 1987. These changes spurred the wanderlust of Taiwan's inhabitants, and both domestic and international tourism became very popular.
Taiwan's tourist industry has become even more vigorous now that people can enjoy full two-day weekends (2001), and as the computer age begins to provide worldwide on-line travel information.
B. Taiwan's tourism geography
1. Domestic tourism
a. Domestic tourism resources
There are 250 major scenic areas in Taiwan, which come under different jurisdictions according to their resources. For instance, there are six national parks possessing both natural beauty and cultural assets; they are Yangmingshan, Xueba, Taroko, Yushan, Kenting, and Kinmen national parks. There also are seven national scenic areas--Tapeng Bay, Sun Moon Lake, Penghu, Matsu, Huatung Longitudinal Valley, the northeast coast and east coast and five provincial scenic areas: the north coast, Lishan, Kuanyin Shan, Pakua Shan and Maolin.
Among these tourist attractions, amusement parks have developed fastest. For example, we have Janfusun Fancy World in Taichung, Leofoo Village Amusement Park in Hsinchu, Taiwan Folk Village in Changhua, the Formosan Aboriginal Cultural Village in Nantou, National Museum of Natural Science in Taichung, and Taipei Arts Museum in Taipei.
b. Domestic recreation activities
According to the ROC Tourism Bureau, there were 96,003,589 visitors to the 250 major scenic areas in 2000, an increase of 8.23% from the previous year's 88,703,894. While forest amusement parks and national parks received fewer visits (-18.86% and -3.85% respectively), most scenic areas enjoyed an increasing number of visits (+30.40% in provincial scenic areas, +27.89% in national scenic areas, +14.61% in temples).
Among privately-run amusement parks, in 2000 Janfusun Fancy World was the most popular (1,930,189 visits), Leofoo Village Amusement Park the second most popular (1,900,963 visits) and Window on China the third (803,189 visits). Among public amusement parks, Taipei City Zoo claimed the number one position (5,438,498 visits); the National Museum of Natural Science was number two (3,829,824 visits) and the National Palace Museum number three (1,976,921 visits).
The Taiwanese tend to prefer short-range travel. Almost 60% of all tourists return in the same day, 23% in two days, and 19% in three days or longer; the average trip length is 1.8 days. Almost half of all tourists favor viewing the natural scenery, with mountain climbing, hiking, and visiting friends as the second choice. As for regional variation, northern Taiwan is famous for its local delicacies, central Taiwan for its amusement park facilities, southern Taiwan for its water sport activities, and eastern Taiwan for its hot springs.
Many scenic spots in central and eastern Taiwan were damaged by the 9/21 Chichi Earthquake in 1999 and the Toroji Typhoon in 2001. Both public and private efforts have been devoted to the recovery of these areas for tourism. The Tourism Bureau is also advocating a plan to promote Taiwan's local tourism in the 21st century. Hopefully with the new two-day weekends and other incentives, Taiwan's tourism will continue to thrive.
2. International tourism
a. Inbound travel
According to Tourism Bureau statistics, international visitor arrivals reached 2,624,037 in 2000. Six out of ten people came from Japan, the USA and Hong Kong. Most visitors (56%) came for business: these usually travel on their own without local travel agencies planning activities for them. Visitors with a sightseeing purpose (29%) usually join package tours (38%) or travel on their own (36%). Their favorite activities are: shopping, sightseeing (natural scenery and historical sites) and hot spring bathing. International tourists are most impressed with the local hospitality, tasty cuisine and cultural richness.
b. Outbound travel
According to the same source, departures hit 7,328,784 in 2000. A 1999 analysis shows that most of the foreign traveling is done by residents of Taipei (43.6%), Taichung (11.2%) and Taoyuan (10.4%). Most of them head for China, Macao, and Hong Kong (40%) or Southeast Asia (23.9%), followed by Northeast Asia, North America, Europe, and Australia. China (22.1%), Japan (14.9%), and Hong Kong (14.8%) rank as the top three destinations. Reasons for going abroad are: sightseeing (58.7%), business or doing surveys (19.9%), visiting friends (12.4%), attending meetings or holding exhibitions (6.3%), and studying (1.8%). Half of all outbound tourists travel in groups and a growing number are turning to travel agencies (36.0%). When deciding on a travel destination, most group tourists consider the local natural environment, historical richness and sanitary conditions; independent travelers give more thought to the attractiveness of local shopping and the potential for cultural interchange and language practice, as well as the local natural environment.
---